Until 2005 steel strap was a key method of cargo securing allowed on North American railcars. But there was a problem with these straps breaking on loads due to flexing during journeys. As the cars moved during transit, sudden bumps and vibrations caused the steel strapping to bend back and forth in the anchors until it broke.
Introducing strapping to North American Rail
The AAR was aware of the wide use of Cordstrap strapping in sea containers. It asked us whether open top loads could be secured in the same way. Within a few weeks we were able to demonstrate that our polyester strapping was strong enough for the task. Performing without a single broken strap and proving lighter and safer to work with and easier to apply. Without the scratching to cargo often resulting from the use of steel banding. Within three years the AAR Opentop Loading Rules (OTLR) Committee approved non-metallic lashing for all pipe figures.

Expanding usage to concrete loads
In 2008 Cordstrap began testing on concrete loads. Where the elasticity of polyester had a perceived advantage over steel. It was quickly clear that Cordstrap products had the ability to maintain tension during heavy impacts. Ensuring no straps would ever come lose on a concrete load during transit.

Developing solutions for steel and steel plate
Most recently, Cordstrap worked with the Opentop Loading Committee on a securing solution for structural steel and steel plate loads. Our engineering team developed a new steel edge protector that allowed the securing of products with sharp edges. Successful impact testing followed and Cordstrap was then approved to secure I beams and steel plate loads.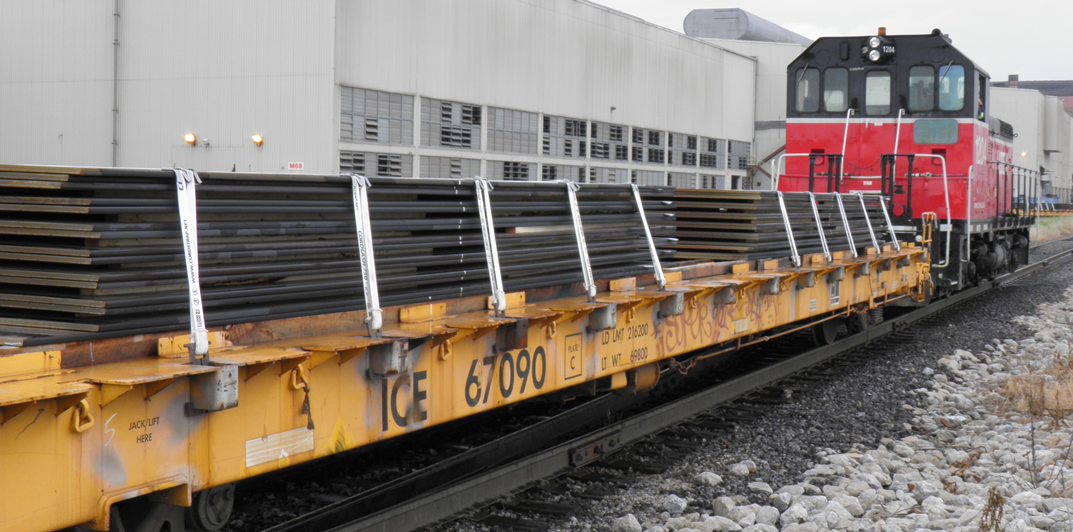 Strapping: now the primary means of securing rail cargo in North America
As of 2015, Cordstrap lashing products were approved to replace 2" and 1.25" steel banding on all open top figure loads in the AAR Opentop Loading Rules Manual. Within ten years, Cordstrap's solutions had become the primary means of securing rail cargo in North America. Making steel band obsolete and ensuring cost-effective and safe shipping for North American railroad customers.
Moving to rail could transform the cost and efficiency of your cargo shipping. To learn how Cordstrap could partner with you in this, contact Scott Loudon, our Major Account Executive.