We recently wrote about the growth of intermodal rail as a key element of China's "Belt and Road" project. Estimates that $900 billion worth of infrastructure development is either being planned or underway reveal both the extraordinary scale of investment in the "new silk road" and the huge potential for these new routes.
But, before assuming that it is all going to be a straightforward shift in modalities, it is worth taking a good hard look at what new risks cargos will face on the increasingly popular overland route.
You could be forgiven for assuming that such a route, avoiding sea transportation, would be the driest option, however, the exact opposite is true. Whereas temperatures at sea are moderated by the cooling effect of the oceans, temperatures on land can fluctuate wildly. And that is where the danger to your cargo lies. This kind of volatility is what will cause condensation inside shipping containers causing a phenomenon, known in the trade as, container rain. Water droplets which condense on the roof of the container proceed to fall on the cargo inside, creating rain and, potentially, irreparable damage.
The following graph, demonstrates how temperature, represented by the blue line, and relative humidity (RH), indicated by the orange line, have been plotted for a container shipment that took place over both and sea. As you can see the difference is dramatic.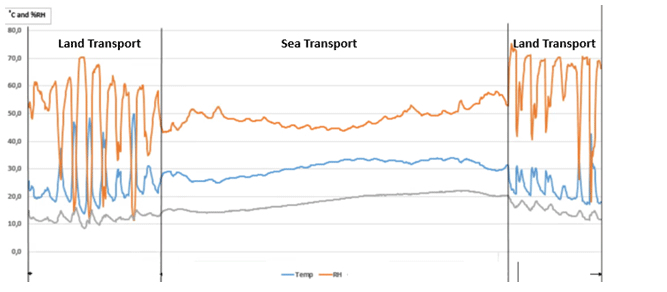 What's more, most containers travelling on larger vessels are further protected from the heating effects of solar radiation, by being surrounded by other containers. Even those containers loaded on the more exposed parts of a ship will be subject to less variation in temperature and relative humidity than those travelling by train.
It's this kind of detailed knowledge of risks that is essential in developing cargo protection solutions and strategies. And it is this depth of knowledge that Cordstrap brings to the table. Understanding the risk moisture poses, means we can deploy additional protection measures to your cargo above and beyond providing the best systems to secure it in place. Our extensive range of Moisture Control solutions is the most advanced and absorbent currently available. Our unrivalled, global supply network, offering expert advice and training, means we can guide your logistics teams on exactly how to deploy it wherever they are in the world.