Are you considering shipping your goods by rail instead of using trucks? If so, do you know that there are Rail Road Rules in North America that limit the number of General Rules loads you can ship before obtaining an approval for open top loading?
If you plan to ship more than 25 loads via rail, you should apply for an AAR figure for your shipments. Obtaining this approval is important to eliminate liability and ensure that loads pass through interchanges of railroads without delay. With seven Class 1 railroads and over 500 short lines privately owned in North America, without an approved loading pattern cars can be stopped or rejected in transit. This can result in lengthy delays - and additional costs to transfer the materials on to trucks if it is refused.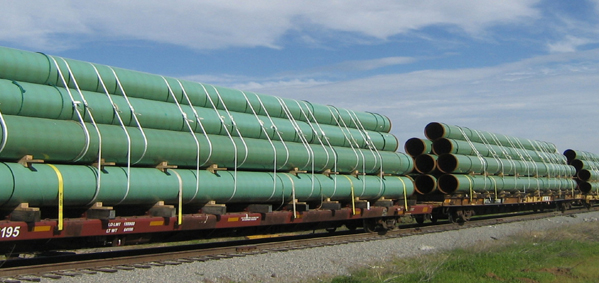 AAR Open Top Loading Rules or OTLR
The AAR Opentop loading rules (OTLR) are a collection of load plans with step-by-step instructions on how to load products on rail cars. They identify what types of wood to use if runners are needed, types of restraint systems - everything down to the size, type and number of nails that need to be used. These load plans have been tested and deemed safe by the AAR for normal rail transit conditions. All Class 1 rail roads have agreed that if a shipment is loaded to an approved figure, it can transfer from one rail line to another without restriction or delay.
Should you choose not to go through the process and load a car without following the General Rules or a figure load, you open yourself to risk if something happens in transit. In the event of a train derailment, all cars will be inspected to find the cause. If you have a car on the train and did not load it as required by the OTLR, then you could be liable for costs, damages, or even criminal charges if someone is hurt or killed as a result. So it is very important that each new load is properly tested and approved prior to shipping.
Extensive knowledge of rules and regulations in US and Canada
Most companies do not have a department or personnel who understand what is needed for them to harness the benefits of rail shipping. This is where Cordstrap can help! Our Rail Segment Team in North America will provide everything you need and liaise between the shipper and railroad to complete the process with you. They have extensive knowledge of the rules that govern US and Canadian rail lines and will advise you on the easiest way to obtain an approval based on your specific situation. There is no charge for this support. It is part of Cordstrap's drive to secure the worlds cargo safely.
The Rail Segment Team in North America will also develop load plans and securing arrangements that comply with 3G,2G,2G requirements, as well as drawing up 3D load plans and step by step instructions on the loading process. This can assist your local railroad representative in considering immediate approval for direct shipments. If shipping through interchange, the team will then guide you through the test process and work with you and the customers receiving your test loads to ensure that they are documented properly.
AAR Approvals
The Cordstrap Rail Segment Team has helped dozens of companies with this process and has secured AAR approvals for hazardous chemicals, steel products, concrete, Ingots, billets, tires, intermodal loads...almost anything you can think of.
If you are considering saving your organization money, protecting the environment, or becoming more competitive, contact one of Cordstrap's rail specialists. They can show you how to benefit from shipping by rail, an opportunity that provides many companies with a real business advantage.