The recent Dangerous Goods Seminar in London brought together for the first time key representatives of the entire supply chain, from shippers to insurers; from ports and terminals to cargo securing companies and organizations.
Facilitated by the ICHCA – the global voice in cargo handling – and sponsored by TT Club, the leading provider of insurance and related risk management services to the international transport and logistics industry, the Seminar featured interactive and diverse discussions that focused on the importance of proper cargo securing for dangerous goods and the responsibility of the entire industry to work together to achieve this. All parties were united in declaring the importance of improving cargo handling with regards to mis-declarations and incorrect securing and packaging.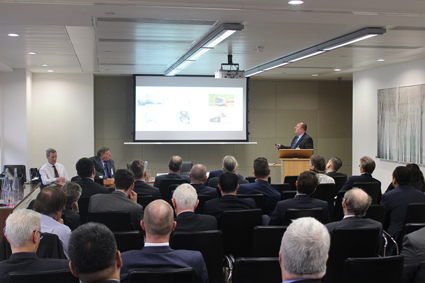 One of Cordstrap's cargo securing experts and a dangerous goods safety advisor, is involved on a daily basis with the securing of dangerous goods and shared his experiences at the event, highlighting the six key reasons why correct cargo securing is important to any company –
Health and safety
Material damage
Environmental damage
Economic damage
Reputational damage
Rules and regulations
We explained that to ensure safe transportation of dangerous goods, it is essential that the securing method used complies with all relevant rules and regulations. The most important of these are the IMDG code and CTU-Code.
At Cordstrap, we work in partnership with our customers to create container cargo securing methods that are –
Fast and easy to apply
Offer optimal security
Consistent in application
Fully certified
These container cargo-securing systems are CornerLash and AnchorLash.
With amendment 38-16 of the IMDG Code becoming mandatory on January 1st 2018, the importance of correct securing, packing and declaration of dangerous goods is a key focus for the entire global shipping industry.
Cordstrap were proud to be part of this great industry event – helping to ensure that working together, we all play a part in keeping the world's cargo safe.