Cordstrap launched its patented Dynablock portfolio of buckles in 2012. Within a short period of time Dynablock became the first choice for railroad shippers in North America. Now Cordstrap are proud to announce that they have improved their buckles again.
When customers purchase the Dynablock buckles, a Field Representative from Cordstrap visits and provides training prior to use, to ensure straps are positioned to take full advantage of the technology. On a Dynablock buckle, the top of a buckle can be seen and felt, indicated by grooves running the length of one side. With proper strap application, a visual inspection of the buckle will confirm whether they are applied properly from a distance of up to 8 feet away.
The opposing angled groove technology in the Dynablock buckle is designed to allow the strap to be applied and tensioned from either end with no resistance. As soon as the strap tries to slip back or loosen up, the knurls on the posts act like fish hook barbs, biting into the strap and restricting it from loosening.
For dynamic loads, or loads experiencing rail shunting and hunting, Dynamic buckles are a shippers best defense against straps coming loose in transit. They save the need to re-tension straps during transit, as zero slippage occurs even under the harshest environments when the buckle is applied correctly.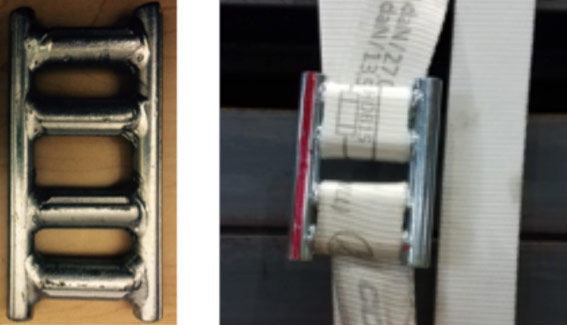 2nd Generation" Dynablock 3rd Generation" Dynablock with hi-viz marker
Recently, Cordstrap made the decision to add a better visual marker to the buckles to help ensure that they are applied correctly, and assist inspectors at interchange to confirm correct application better. By adding a high viz, permanent, reflective red paint on one side of the buckle, it is now easier than ever to identify whether a buckle is applied correctly from distances of over 15 feet away. When you see the red stripe, you are getting the best strap and buckle technology available anywhere in the world today.
If you are using anything other than Dynablock buckles, or are still using old fashioned steel banding to strap cargo, call us for a quote, or demonstration. At Cordstrap, we are devoted to creating a safer environment for you, your employees, your products and your customers.