On August 27 – 29 Cordstrap Team in Brazil will be attending Logistique - one of the largest and most influential logistics and multimodal business trade shows in Brazil, that brings together the main market players.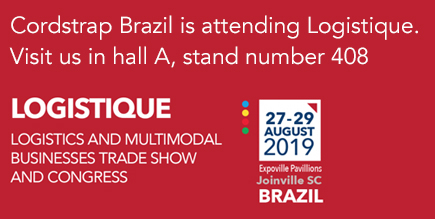 Rodrigo Sella, Commercial Manager for Cordstrap Brazil talks about the importance of working with a cargo protection expert. And how engineered cargo protection solutions can truly transform the supply chain.
Why is Cordstrap attending Logistique?
Logistique is an important event for Cordstrap. It brings together the key sectors of Multimodal Freight Services, Transport, IT and TRC, all of which Cordstrap can support through our extensive cargo protection expertise. Our engineered solutions ensure that our customer's cargo is secure for the totality of the journey whether it's via air, land, sea or all three. Moreover, our solutions meet all regulatory and compliance requirements both nationally and globally, meaning our customers do not have to worry about the financial impacts of delayed or rejected cargo due to incorrect cargo securement. Logistique is a key event for Cordstrap to talk to shippers who use all modalities in order to understand the issues and challenges they have within their supply chains, including during shipping process, discussing the most effective solution.
What are the ways Cordstrap help their customers to optimize their supply chains?
There are multiple ways we do this. We help our customers to significantly reduce the time spent loading containers through our tailored and engineered applications. For example, our latest cargo container innovation, AnchorLash HD enables our customers to load up to 18 tons in a container in just 10 minutes! This easy application means it can be done by just one person. Plus, the 'Plug and Play' components, including cut-to-length lashing, significantly reduces wastage, preparation and clean up time. This means our customers can load more containers in less time, requiring fewer people to do it. We can help our customers standardize their cargo securement processes across multiple local, national and global locations, further enabling higher efficiency and cost savings. In addition, with our market-leading Moisture Control solution, we can also assure cargo protection from the multiple types of damage caused by the "container rain".
What are the core industries that Cordstrap work with?
With over 50 years of cargo protection experience, we have worked across multiple industries globally providing engineered solutions to protect a huge range of cargo types. As well as the world-leading expert provider of container solutions, we can support across all modalities. For example, we recently won an account with a Brazil-based manufacturer of large electrical equipment and components. They needed support in helping to protect their cargo, globally across their shipments. Cordstrap's Cordlash 1500 provided the perfect solution and our local cargo protection experts were able to train and support the customer's teams, ensure their cargo was shipped safely and risk-free.