Supply chain challenges continue to put pressure on businesses across the world. Freight rates along certain routes have rocketed to more than 5 times the seasonal average over the past five years₁. The blockage of the Suez Canal by the Ever Given, estimated to have cost the global economy as much as $3.9 billion₂, revealed the vulnerability of our supply chains. Container shortages have further fueled the crisis. And, just when we thought we might be emerging from the darkest days, a war in Europe has led to some of the most severe and wide-ranging economic sanctions we have seen in decades.
Russia is one of the world's largest chemical producers, it's the third largest exporter of both oil and gas and of other raw materials so sanctions against it are forcing already-high global commodity and energy prices up to unparalleled new levels.
The net result is that it now costs more than ever to produce goods. And it costs more than ever to move them. The chemical industry has always dealt with risk mitigation at the highest level, but with the stakes now higher than ever before it is essential to review and re-evaluate potential risk across supply chains – including the protection of goods during transit. Get it wrong, and you will be hit by the increased cost of replacing those goods as well as the heightened cost of reshipping them.
Addressing risk through engineered protection
Taking a more dynamic approach to the way you protect cargo has the potential to reduce your loading costs and the risk of products being damaged in transit. Our recently upgraded and extended container lashing systems, CornerLash, AnchorLash and QuickLash have been designed to optimize protection for every type of chemical shipment from heavy drums to light cartons. Our container lashing systems:
have been engineered to deliver exactly the right amount of tension to protect cargo
drive down loading times using precise, standardized procedures
can be applied by a single operative
can be tailored to the specific requirements of your cargo type and route
can be integrated with our range of D-Connect Dunnage Bags to fill voids and further prevent movement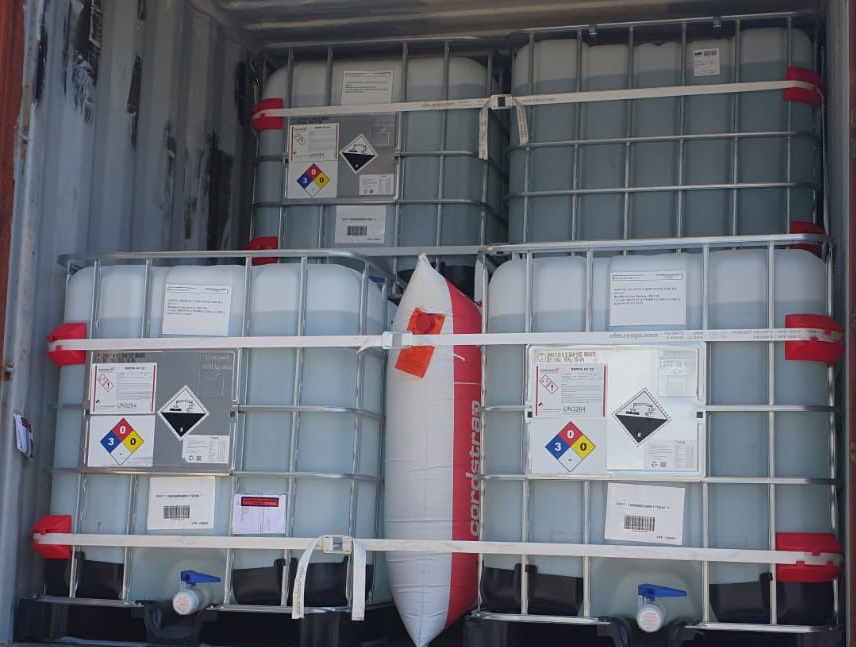 We also protect moisture-sensitive container cargo from damage with our high-performance desiccant range. Cordstrap Moisture Control has the highest absorption rate on the market – 320% of its own weight. This means you require fewer products to protect shipments from moisture, making it more reliable and cost-effective than older desiccant technologies.
Cordstrap products and solutions are accredited by the world's leading regulatory bodies including, Germanischer Lloyd, the IMO, Mariterm AB and the Association of American Railroads.
Global supply chains depend on the safe movement of chemical goods
The chemical industry lies at the epicenter of global manufacturing activities. Chemical businesses have a vital role to play in helping the world recover from the current crises and emerge fitter, stronger and safer. Cordstrap helps businesses engineer out the risks associated with moving goods, enabling our customers to operate safely and grow.
Our global network of cargo protection experts puts Cordstrap in the unique position of being able to work with your teams around the world, guiding them on best practice and customizing protection for any load type on any route. To find out more about Cordstrap's unique approach to cargo protection engineering, get in touch with your local cargo protection expert today.
Sources:
https://www.drewry.co.uk/
https://www.hellenicshippingnews.com/the-suez-canal-accident-and-the-state-of-global-shipping/