After carrying out investigations based on driving dynamics including comprehensive acceleration and braking tests, Cordstrap are pleased to announce that we now have a container cargo securing solution for soft packaging that is both CTU Code and EuroSafe Certified.

These certificates validate our AnchorLash and CornerLash solutions for securing soft packaging such as Big Bags, Flexible IBC (FIBC) and bagged goods.
Pallet sizes such as CP1, CP3 and CP9, as well as europallet dimensions are all covered by this certification.
Testing CTU Code compliance in transit
In the course of investigating driving dynamics, palletized paper bags and Big Bags were tested on wooden pallets. The driving tests were carried out with a load of 0.8 g three times in the direction of driving and likewise with 0.8 g in the opposite direction.
The challenge: Extremely low cone formation and low inherent stability of the cargo
The inherent stability of a bulk material can be characterized by its cone formation. The driving dynamics tests were carried out with a cone formation of < 15°.
Results of operational testing
After three emergency stops in the direction of the bulkhead and one in the direction of the container door with at least 0.8 g, the retention system was completely operational and undamaged. Falling out of the load units after opening the doors was also effectively prevented, even after multiple test loads.
The solution: Cordstrap Retainer Buckle
Despite possible load shifts during transportation, the straps remained in position and fully effective.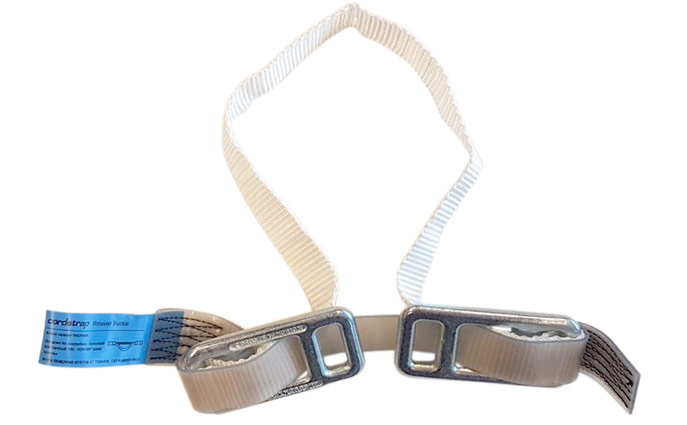 Retainer Buckle CRB 10
The balance of forces for a weight of 20,000 kg (44,092 lbs.) in the container
The CTU requirements are completely fulfilled for maritime transport (sea area C), as well as road transportation and combined road/rail transportation. In creating the certificate, all acceleration values, GPS data and the theoretical calculations of EN-12195-1 and the CTU Code were taken into account.

Fast and simple
Installed in just 12 minutes
Up to twice as fast as alternative solutions
Completely certified
Tested and certified by EUROSAFE
Full CTU compliance
Certified by Mariterm AB and Lloyds
Various packaging, various properties
AnchorLash and CornerLash can be optimized for particular applications with a range of add ons, including HangStraps, FlexBoards and EdgeBoards.
Our promise to the chemical industry
Optimal security
Complete certification by EUROSAFE, Mariterm AB and Lloyds
Quick and simple installation
Standardized way of working
Training and support by Cordstrap experts
Keeping the world's cargo safe