The global steel industry is a major contributor to the world economy, and a strong indicator of its health. Overall it is worth around $900 billion a year. [1]
In the first three months of 2017, global steel output reached 410.5 million tonnes, an increase of 5.7% over the same period in 2016. Global steel consumption grew by 1.3% in 2016, to 1,600 million tonnes. Much of this growth was powered by China, where demand has recovered due to government incentives for manufacturing.[2]
The highly geographically distributed producers within the industry need to meet this global demand while maintaining their profit margins. They have to optimize their supply chains by working with specialists who can ensure that transportation is smooth, efficient and is completed without damage to finished and semi-finished products.
Many leading steel and metal manufacturers chose to partner with Cordstrap for their global cargo securing. We have 50 years experience of working with producers to understand the behavior of their products in transit and the specific shipping needs this represents. We are able to audit current transportation chains and evaluate where efficiencies can be found – whether in containers, on flat rack, rail car or ship.
Cordstrap's innovative solutions allow steel and metal producers to maintain their competitive advantage worldwide, while reducing health and safety and product damage incidents during transit. Our experts can provide the advice and training needed to ensure total cargo security.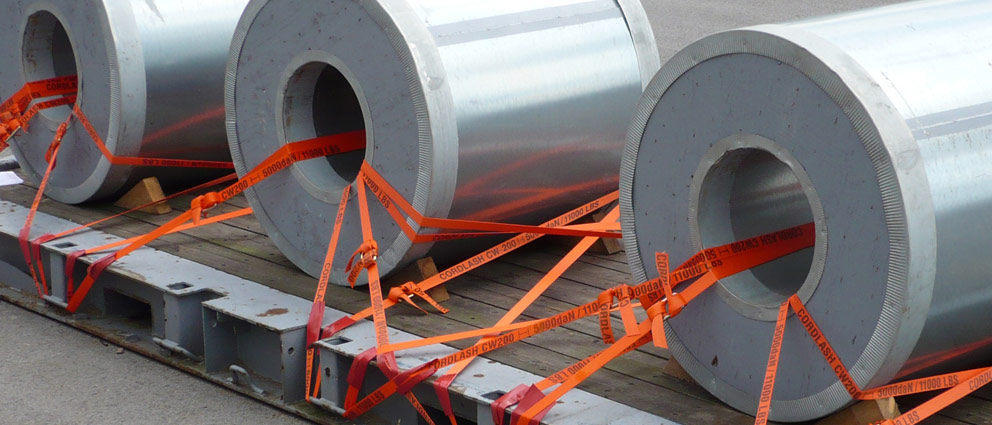 Whether securing rolled steel coils on a flat rack or protecting coated metal products in transit, Cordstrap have a solution specifically designed to meet the needs of the steel and metal industry. Providing efficiency, cost-effectiveness and peace of mind.