From August 6th, 2019, Union Pacific Railroad (UP) will start to penalize shippers who miss their appointed delivery slots. The fines will be imposed on trucking companies who do not show up or cancel with less than 24 hours' notice. This news comes hard on the heels of UP announcing a new, stricter demurrage enforcement policy.
UP are the largest railroad in the US, operating across 23 states, making them one of the largest transportation companies in the world. As such, it is reasonable to anticipate that other companies will follow their lead. Of course, the trend to step up delay-related fees is not a new one. As we have reported, rising demurrage and detention fees have been putting pressures on shippers globally.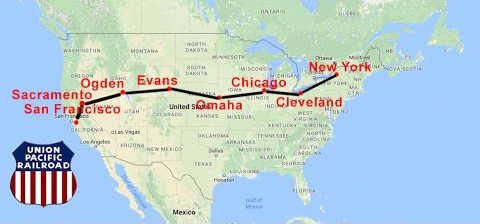 In tandem with the introduction of these penalties, UP have introduced a new reservation system which they call, the Intermodal Terminal Reservation system (ITR). They are promoting this as a better way to plan delivery and collection and claim it will provide an enhanced user interface. Reservations will be required in Los Angeles, City of Industry, and Lathrop in California, Brooklyn in Oregon and Seattle and Tacoma in Washington State. UP have said they plan to roll the new system out at "additional domestic intermodal terminals to deliver a consistent experience". This move is likely to be replicated by other freight companies.
As ports of all kinds look to automate more and more of their operations, they will use whatever means possible to drive greater efficiency. And the new UP regime does take a carrot and stick approach to incentivize shippers to stick to the schedule. While the system will charge a $25 fine for canceling a reservation less than 24 hours before gate cutoffs and $50 for missing an appointment, UP provides some reciprocity by promising a $100 credit if a shipper tenders a container on time which is then not loaded onto the assigned train. The credits can be used to offset fines.
Global support network helping to reduce your business costs
It all adds up to the fact that it is becoming increasingly important to optimize the time-efficiency of your supply chain wherever possible. To do that, it is essential to work with a cargo protection partner who can ensure that your intermodal container shipments are prepared for transit as efficiently and quickly as possible. Cordstrap have designed the world's most effective container cargo protection system in the world. But CornerLash doesn't just protect cargo, it has been engineered to be safely applied using minimal labor to maximum effect. This can deliver significant cost savings to businesses, especially those with multiple locations nationally or globally where standardizing best practice can have extensive benefits.
CornerLash is one of Cordstrap's unrivalled range of engineered solutions for all key areas of cargo protection, from Moisture Control to cargo monitoring technologies. And to ensure that these are used as efficiently as possible, Cordstrap operate a global support network, on call to advise and train your workforce wherever they are in the world.
To find out how Cordstrap's engineered cargo protection solutions can help your business outpace your competitors, reduce costs and avoid delay charges, contact your local cargo protection expert today.