With over 50 years experience in worldwide cargo securing, Cordstrap are naturally global leaders
in container securing expertise. The modular containerization solutions and dunnage bags that Cordstrap have developed are specifically designed
to prevent the movement of cargo in containers,
with modular solutions that are fast, cost-effective
and fully CTU compliant.
But it is the recent introduction of CornerLash that has provided a game-changing innovation in this area.
The only solution in the market that uses the strongest point of the container – the corner posts – CornerLash provides optimal security while being six times quicker to apply than existing solutions, helping to minimize total cost of ownership (TCO) for shippers.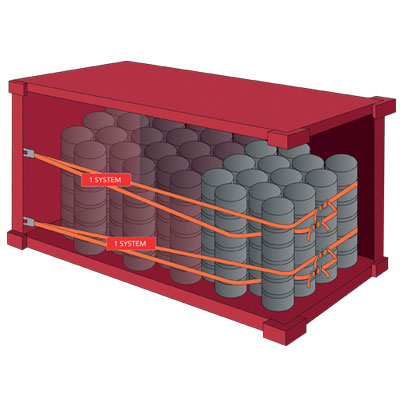 The shipping container would not be top of many people's list if asked to name the most influential technological breakthroughs of the last 70 years;
but the invention of this uniform method of cargo transport by Malcolm McLean in 1956 has revolutionized world trade and had an enormous global economic impact. Indeed, its development has been a major driving force in globalization itself.
Approximately 90% of worldwide, non-bulk cargo
is now carried in containers, via a purpose-built transport network that includes the world's largest vessels, with capacities up to 19224 TEU.
These in their turn have a major impact on the ports
that service them and their associated infrastructure.
Such a significant contributor to global wealth will always be the subject of innovation – and regulation.
Tracking of containers in transit is one example of this,
as is the use of sensors to monitor contents in transit
and in port. The European Commission's Joint Research Center has suggested that future containers might be built of carbon-fiber – which would make them easier to scan without opening, with the added benefit of light weight and the potential to be folded flat when empty.
Container legislation has advanced recently with
the arrival of the CTU Code, placing strengthened obligations regarding safety standards and accountability on all parties involved in global
container shipping.
Revolutionary and fully compliant, CornerLash
is a great example of the expertise that Cordstrap brings to one of the most important aspects
of global shipping – the container.