The importance of cargo securing for the chemical industry
Safety is a key factor in global chemical manufacturing – and as a result is highly regulated. However, there is a striking mismatch in regulation of the transport chain for these products. For example, only 2% of all outgoing containers worldwide are inspected before shipment – and a recent study by TT Club came to the conclusion that poorly packed cargo accounts for 65% of all damage incidents. On a global scale, cargo losses have an annual estimated financial impact of $50 billion.
Regulating to keep the world's cargo safe
Rules and regulations play a crucial role in lowering the number of incidents in the supply chain. Every year, 700 million tons of cargo are transported, 90% by sea. IMO, ILO and UNECE introduced the CTU-Code as a guide to how shippers should secure their cargo for transportation. After a growing adoption of the guideline in the past years in ports around the world, on January 1st 2018 the CTU-Code will become law for the shipment of dangerous goods and as of that date, will be included in the legally binding IMDG-Code.
The AAR (American Association of Railroads) plays a transatlantic role beyond US shores. If cargo uses US rail anywhere on it journey, it needs to comply with AAR regulations in order to prevent rejections, delays and extra costs.
Cordstrap – leading the way
At the recent Logichem chemical supply chain event, held in Pennsylvania from November 13-14, Cordstrap's President North America, Donna McPherson, spoke about cargo securing innovation, covering:
The role of cargo securing in supply chain and logistics strategies
Navigating the regulatory landscape
Exploring the business opportunities of total cost of ownership (TCO)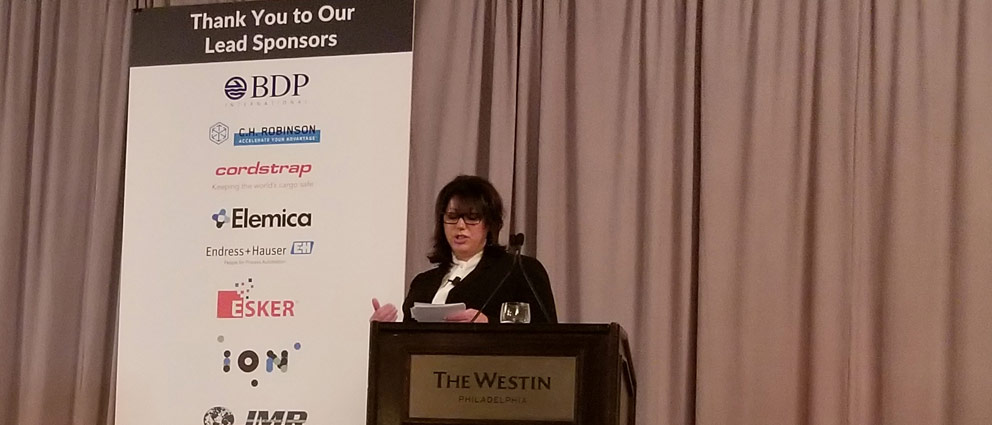 This contribution was very well received by the audience and underlined Cordstrap's belief that cargo securing needs to move from a loading dock conversation to become a business topic with four key pillars:
Damage reduction and control
Efficiency in cargo handling and loading
Regulatory compliance
Supply chain optimization
Business opportunities through Total Cost of Ownership
Treating cargo securing in this way will result in reduced total cost of ownership (TCO). Cost and risks of damages, loading inefficiencies, injuries, spills and accidents can be controlled and reduced.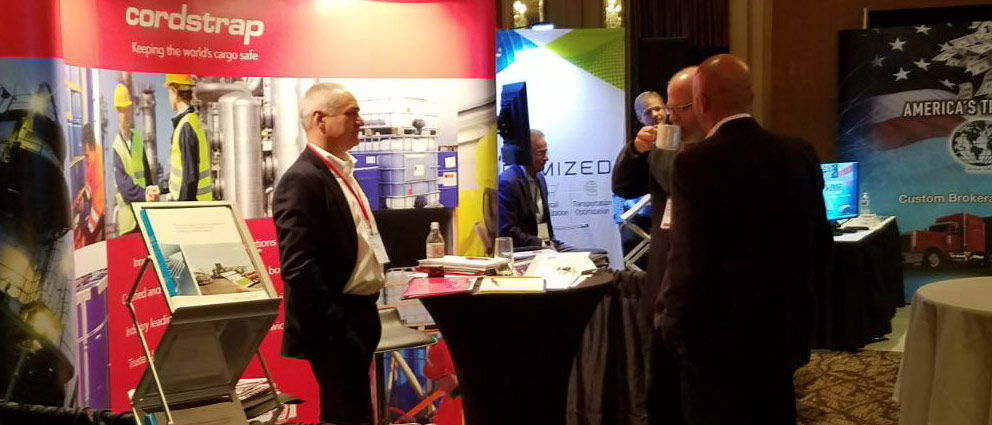 At Logichem, Cordstrap engaged with a number of different chemical manufacturers as well as 3PLs to discuss these opportunities. Major industry leaders such as Akzo, BASF and Honeywell were keen to discuss how our innovative cargo securing solutions could enhance TCO and offer supply chain enhancements not just in the US, but also on a global basis.
At Cordstrap, we take cargo securing seriously and are constantly looking for ways to innovate with new products and service concepts. We work in partnership with some of the biggest and most prestigious brands in the chemical industry to keep the world's cargo safe.
With four simple questions, we can give preliminary cargo securing advice. Just click here and you can be applying our knowledge to your specific requirements within minutes.