We're delighted to announce that Cordstrap have achieved new AAR approvals for our Container Solutions portfolio to provide you with a full range of approved securing applications for shipping hazardous and non-hazardous chemical cargo across the North American rail network.
Attaining AAR approvals for our portfolio across a range of applications is the latest example of the global compliance of Cordstrap's solutions. CornerLash also fully meets CTU Code guidelines for cargo securing and is IMDG-EU Code compliant.
AAR approval for CornerLash
We have recently gained AAR approval for our revolutionary CornerLash cargo securing solution for palletized steel and plastic drums in 20ft and 40ft containers, whether containing hazardous or non-hazardous loads.

A specific CornerLash AAR solution has been developed that features low-elongation lashing combined with our patented Dynablock buckles and Corner Elements.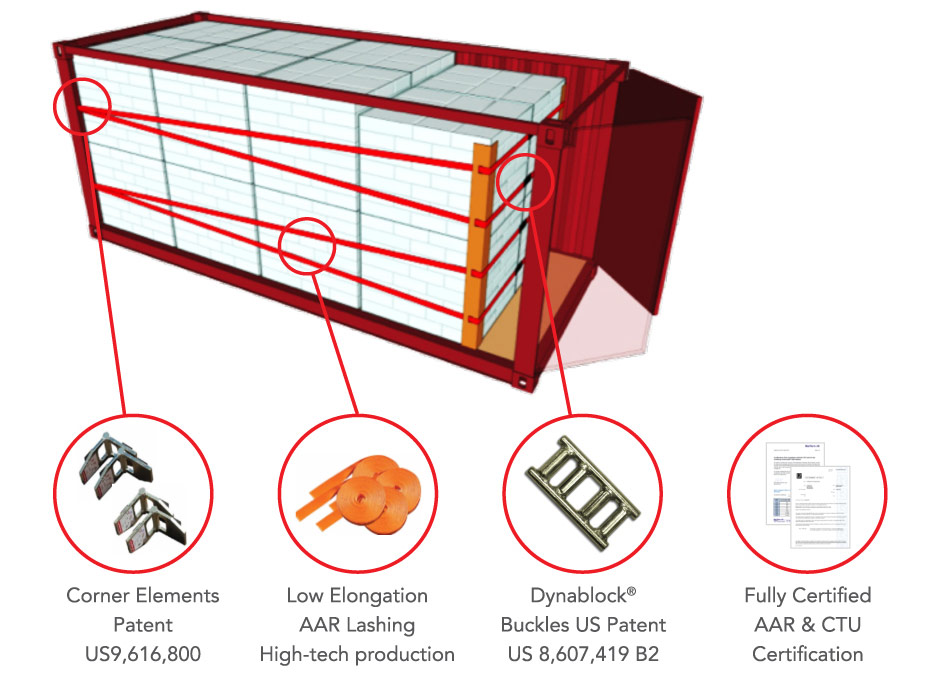 CornerLash is the most efficient way of securing loads of up to 30 tons. It is the only solution that uses the strongest part of the container: the securing posts. Fast and easy to apply in just 10 minutes, CornerLash requires no extensive preparation with pre-cut lashing.
Different packaging, different characteristics
We optimize the CornerLash solution for different loads with a range of techniques and accessories including HangStraps, IBC Protectors and EdgeBoards.

Unique strapping innovation
For AAR application, we've developed a unique strapping technique that eliminates the protrusion of the middle drum in a load. It provides a simple, fast and effective way to palletize drums reliably. This cross head strapping is up to five times stronger and up to three times faster than conventional solutions.
Totally compliant Container Solutions
This completes AAR approval across our Container Solutions portfolio for steel drums, poly drums, IBC's, soft packaging and big bags, in 20ft and 40ft containers. Approvals across a wide range of loads and applications ensure our securing solutions are compliant, efficient and minimize possible rejections of cargo when loading.
Our promise to the chemical industry

Uniquely, CornerLash is not only AAR approved, but is also fully CTU compliant and certified by both Mariterm and Lloyd's. Ensuring we will always deliver on our Container Securing promise to our chemical industry partners – that our solutions will provide optimal security, have full certification, and be fast, easy and consistent to apply.