The new CBT35 Battery Tensioner is an important demonstration of the success of Cordstrap in developing cargo-securing products and solutions focused on customer needs.
Developed by a multi-disciplinary team, the CBT35 is designed to complement Cordstrap's technically advanced composite strapping. It eliminates the strength of the individual loader as an issue and delivers consistent tensioning, increased productivity and employee health advantages to customers.
To quote Mike Kontz, part of the development team:
"The response to the CBT35 has been fantastic. Customers are immediately impressed – and even those using rival products love the ability to consistently tension, no matter the size or strength of the operative. This is going to be a revolutionary product. Simply, it takes the mystery out of the essential need to ensure the correct tension on each and every strap."
Initial response to the launch has been very positive – and this innovative new product has not just been an instant sales success. For the CBT35 is winning acclaim, as well as customers.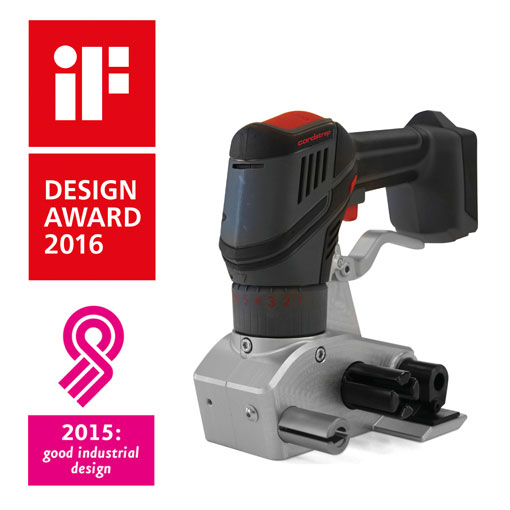 In October 2015 Cordstrap were delighted to announce to have won a GIO award for 'Good Industrial Design'. in January 2016 Cordstrap's CBT35 Battery Tension yet again was rewarded with the prestigious international iF award in the 'Product' category. The jury thereby showed recognition for Cordstrap's industry-leading approach to solving the world's cargo securing needs.
To find out more about the CBT35 Battery Tensioner click here