Transport Logistic, the world's leading logistics trade fair 4-7 June 2019 will see a lot of in-depth discussion around the key trends impacting the logistics industry in 2019. The event team surveyed 2,680 industry professionals to assess how important the predicted trends really are. We've created this infographic showing the breakdown of the results. We look forward to talking through these with many of the attendees.
To download this infographic, click here.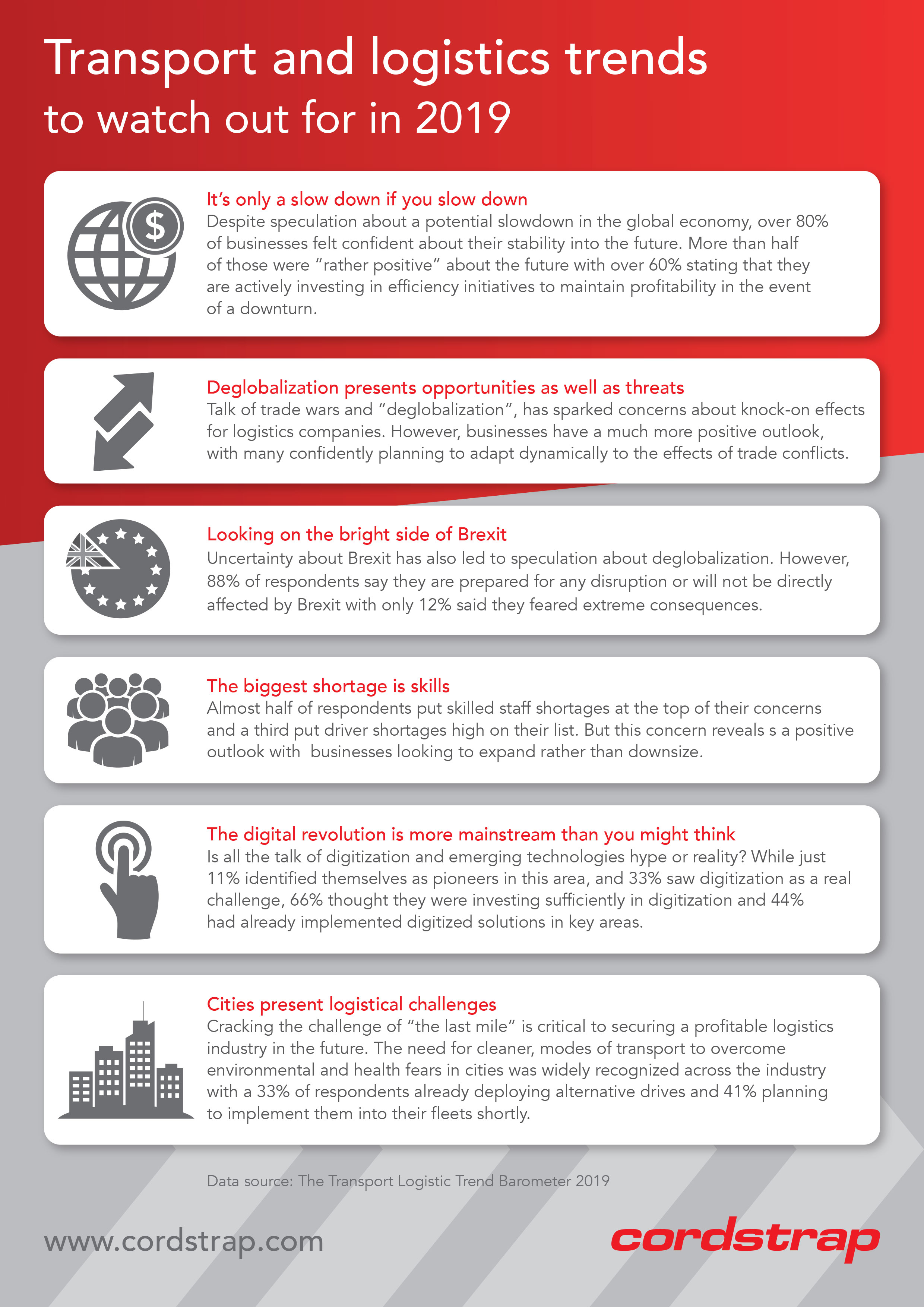 The partnership you need to stay up to speed with the latest trends
Cordstrap are awake to the all the challenges facing the logistics industry. Working closely with our customers, we are helping to deliver significant efficiencies with cargo protection solutions that drive down total cost of ownership. Developing innovative new solutions has meant we can reduce the number of operatives and time required to prepare shipments.
Our solutions are fully CTU Code compliant and are backed by certification from all the world's major regulatory bodies including Germanischer Lloyd, the IMO and Mariterm AB enabling you to adapt your supply chain quickly and effectively, taking full advantage of new modalities to ensure that emergent supply routes are an opportunity rather than a challenge.
We are helping customers to overcome skill shortages by providing a combination of on and off-site training products and applications designed to bring staff up to speed quickly and efficiently. Many of our customers are tackling driver shortages by switching modalities and the fact our protection solutions are fully approved by the Association of American Railroads (AAR) has enabled many North American customers to transition seamlessly from road to rail.
Ansgar Busshoff, Cordstrap's Commercial Manager Germany is attending Transport Logistic on 4-7 June. If you're going to Transport Logistic, you can find Ansgar at the Cordstrap stand 117, hall 6A ready to talk through this or any other cargo protection questions!